Our Queens
We currently have four (4) beautiful breeding queens.
They are Cassie, Chrissy, Darcy and Galena.
---
Grand Ch. Cassandra Baraj

---

Cassie, born 12-1-2014


Cassie is one of our new Russian girls who has been doing very well at shows recently. She's been putting her career before family, so just had her first litter in May of 2017.

Beautiful seal-tabby-point Cassie comes to us from the Baraj cattery in Moscow. Thank you, Natalya, for this wonderful girl.

Cassie and Galena are friends and both like to stay in our bedroom/office suite during the day while I am working.

​We will probably breed Cassie again in the spring of 2018.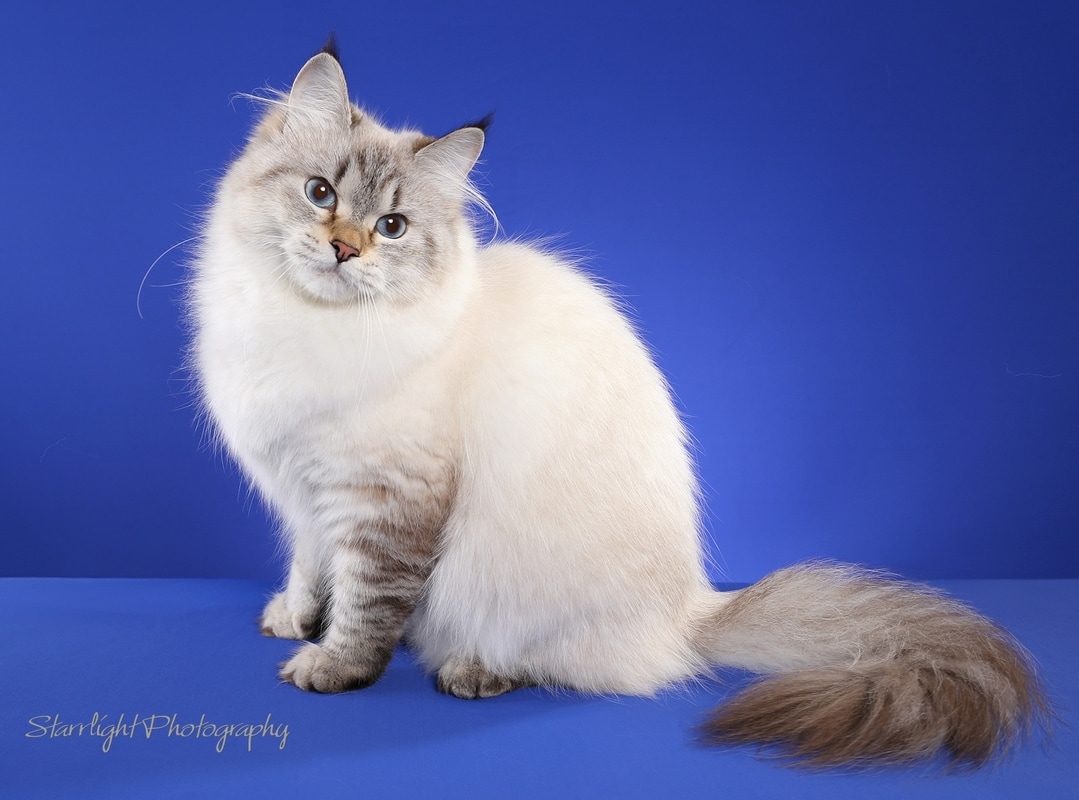 Hrizantema Maris Stella
Hrizantema is Russian for Chrysanthemum, so we call her Chrissy. She comes to us from the Maris Stella cattery in Moscow. Thank you, Anna, for this beautiful girl.

Chrissy loves to talk to us and answers us when we talk to her. She also knows her name very well and comes when we call.

She's a very good mother, and just raised the five beautiful kittens in our "DD" litter.
Ch. Siberian Dynasty Darcy
Darcy, born 8-15-2013

Littermates: ​Dylan and Darcy

Darcy was born in our cattery at the same time as Dylan who is one of our Kings. Darcy is a very sweet and beautiful girl who likes to hang out in the warmest room of the house with Grandma Madge.

​Darcy has had three litters of kittens and is a wonderful mother.
---
Siberian Dynasty Galena


​Our brown-mackerel-tabby with white queen, Galena, was born on June 2, 2014, in our cattery.

Galena's mother is Iola Vizantiysky Podarok (see the retired queens section, below).

Galena's father is RW SGC Siberian Dynasty Dylan (see our Kings page).

Galena is a sweet cat with just a hint of wildness. She is an excellent mother.

Galena is expecting babies around
​March 7, 2017.

---
Our Retired Queens

Retired Queen - Ch. Charodey Gemma
​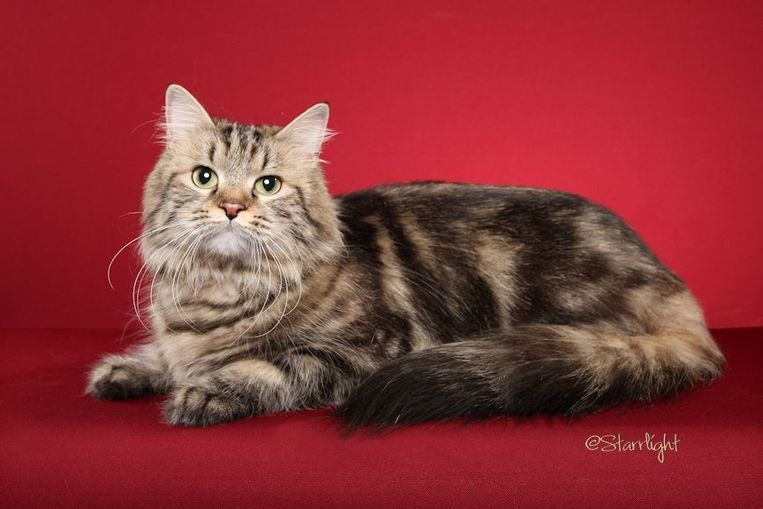 ​Champion Charodey Gemma is a brown classic tabby that we obtained from Wellhaus Siberians. Thank you, Stephanie, for sharing this special girl with us! And thanks also to Natalya Tardif of Charodey for breeding this beautiful example of the classic Siberian.

Gemma is probably the most intelligent cat we own. And she loves to eat. She can open both cupboards and drawers in search of treats.
---
Retired Queen - Siberian Dynasty Bella

​
​



​Siberian Dynasty Bella was born on 12-14-12. Bella is a lovely, affectionate girl and a wonderful mother.

Bella has the same gorgeous blue-tabby point coloring as her mother, Iola who we got originally from Russia (see below).

Bella also has the sturdy, big-bone structure of her dad, Jozef (see the King's page). This is fortunate because her last litter of kittens was a record-breaking adorable litter of 12!
---
Retired Queen - Ch. Siberian Dynasty Eleanor

"Ellie" has a delightful personality. She is a very affectionate girl and loves to snuggle on her owner's lap.

She is also very talkative, and will often chirp with her melodic voice. She is very playful and loves to be chased in a game of tag at bedtime.

Ch. Siberian Dynasty Eleanor is a beautiful seal-smoke-point color like her dad, Jozef, who is found on our Kings page. Ellie's mom is Iola Vizantiysky Podarok (below).

Ellie is living with her new family in Texas.


---
Retired Queen - Iola Vizantiysky Podarok

The first queen of our house was Iola, a beautiful blue-tabby-point girl who came from Vizantiysky Podarok. Thank you, Tatiana, for our gorgeous girl!

Iola is the mother of two of our current queens above, Galena and Bella, and two of our retired queens, Eleanor and Brandi.



Below is a picture of Iola's parents,
Gr. Int. Ch. Elisey Fleur de l'Amour and Int. Ch. Rozalinda Golubaya Krov.

Photos courtesy of Tatiana Vasilyeva.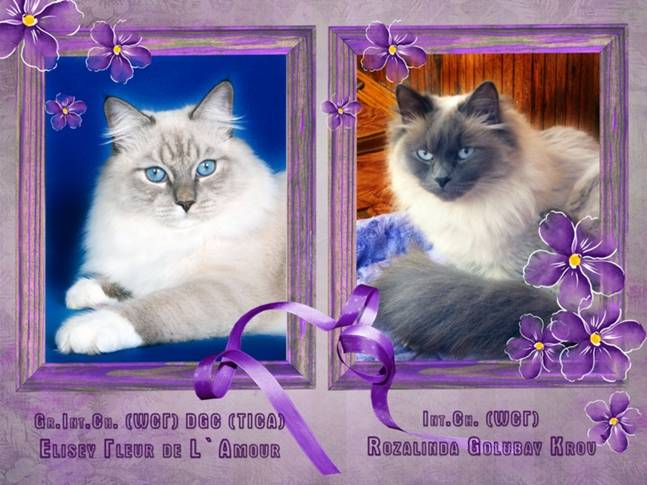 ---
Retired Queen - Amalia Barselit
---
Retired Queen - Siberian Dynasty Brandi
---

Our Queens when they were Babies